Next term of Introduction to Tai Chi begins in January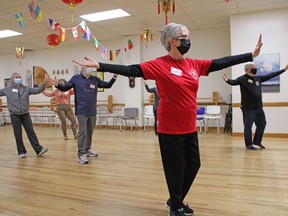 Article content
Norman Leroux has been practising tai chi in Timmins for six years. Diagnosed with heart disease at age 36, he says he feels better today at age 71 than he did a decade ago.
Article content
"Congestive heart failure is a very tricky disease because it mimics your being tired all the time," said Leroux, on a break from beginner Tai Chi class on Friday morning. "Tai chi practises you to breathe calmly, to get that oxygen to your heart without a lot of effort."
Leroux is one of two advanced students who are always in the beginner class so the newer students can follow along.
The Canadian Tai Chi Academy Timmins Branch offers an open house, where the public can try a sample class, which is how Leroux discovered the practice. The Academy, located in the Masonic Hall at 35 Tamarack St., also offers an Introduction to Tai Chi class on Monday evenings and Friday mornings. The next term begins in the second week in January, all for a monthly membership fee of $30. The first class is free.
Article content
Adapted Tai Chi is also offered for those with mobility issues. It can be done sitting in a chair.
Tai chi is a moving meditation through a series of 108 moves named after animal motions such as "white stork spreads wings," or after human interaction with the animal world such as, "parting wild horse's mane." Other moves are named after the martial art from which it evolved such as "go back to ward off monkey."
"As you learn it, it's actually one continuous move from start to finish," said instructor Dianne Corbett, at the studio on Friday. "It just flows through."
Tai chi can improve balance and therefore help reduce falls, according to the Harvard Medical School. The improved balance learned through tai chi helps Leroux to concentrate while performing any other activity, thereby reducing his chance of falling, he said.
Article content
He's noticed improved muscle tone and relaxation, too.
Corbett aims to teach her beginner students the basic forms, and correct hand and foot positions. "We tell them not to try to remember the moves when they go home. Our goal is that they can follow along with people who know the moves."
As students improve, they learn about correct body angles, weight transfer, and timing. But she said improved strength, flexibility, circulation and balance are benefits that can be achieved even at the beginner level.
"It's good for osteoporosis, because you're working the bones and the large muscles," said Corbett, who has been practising tai chi for six years, and became an instructor a year ago. "It's good for the heart, because even though it's very slow and gentle, it's really working your large muscles and really helps circulation."
Article content
Tai chi was brought to Canada by Master Moy Lin-Shin in the 1970s. He adapted the traditional 108 moves by adding more turning and stretching. His senior students established the Canadian Tai Chi Academy in 2006. It became a registered charity in 2007.
The mission of the academy "is to help people of all ages maintain or regain good health." It is not affiliated with any religious organization; however, the practice is informed by Chinese philosophy. It is said to unblock the flow of "qi" the body's energy force. It is also said to promote balance between yin and yang, opposing universal elements.
The pandemic compelled the academy to put more training options online, so that Corbett was able to study with senior instructors, former students of Lin-Shin via Zoom.
Article content
The Timmins branch was closed for a year-and-a-half during the pandemic, and reopened in October 2021. Many classes are still offered online, and are free for members.
The art form was first developed in the ninth century by Taoist monks, as a form of self-defence. They discovered that it was very good exercise, Corbett explained, and slowed it down. Lin-Shin, who had health problems as a boy, learned tai chi from the monks and it improved his health.
"It's the slowness of it that really continues to work your muscles, and tendons," said Corbett. "As you continue, it starts to loosen up and work your spine and all the little connections along your spine."
Tai chi can be done at any age and fitness level. "We had a 10-year-old who came with his mother in the summer," Corbett said.
For more information, contact the Canadian Tai Chi Academy-Timmins Branch on Facebook, or visit canadiantaichiacademy.org under the "classes" tab. The public is invited to come and observe a class anytime.
link