Brenda Cheveldayoff won the Miss World International-Pro and Miss World International Fitness titles in August
By Diego Flammini
Staff Writer
Farms.com
Top photo: Brenda Cheveldayoff, middle, receives her tiara and flowers.
A Saskatchewan farmer sits atop the international fitness world.
Brenda Cheveldayoff, who grows wheat and canola with her family in Blaine Lake, won the 2022 Miss World International-Pro and Miss World International Fitness titles in August.
A panel of 50 judges from all over the globe chose Cheveldayoff, 61, over 77 other women, many in their 20s, 30s and 40s.
Competition organizers provide the contestants with earpieces to provide cues about where to go if their name is called. But Cheveldayoff's didn't work properly.
"I plugged in, but I didn't actually plug in," she told Farms.com. "It was a total shock when they called my name, and I didn't know what I was supposed to do."
Cheveldayoff won the Miss Canada title in 2019 to earn an opportunity to compete in the international competition. But the COVID-19 pandemic cancelled flights and events.
Cheveldayoff grew up on a family farm and helped when she could.
"I spent a lot of time with my dad cultivating and just loved being at the farm," she said. "I'm a total farm kid and still love agriculture to this day."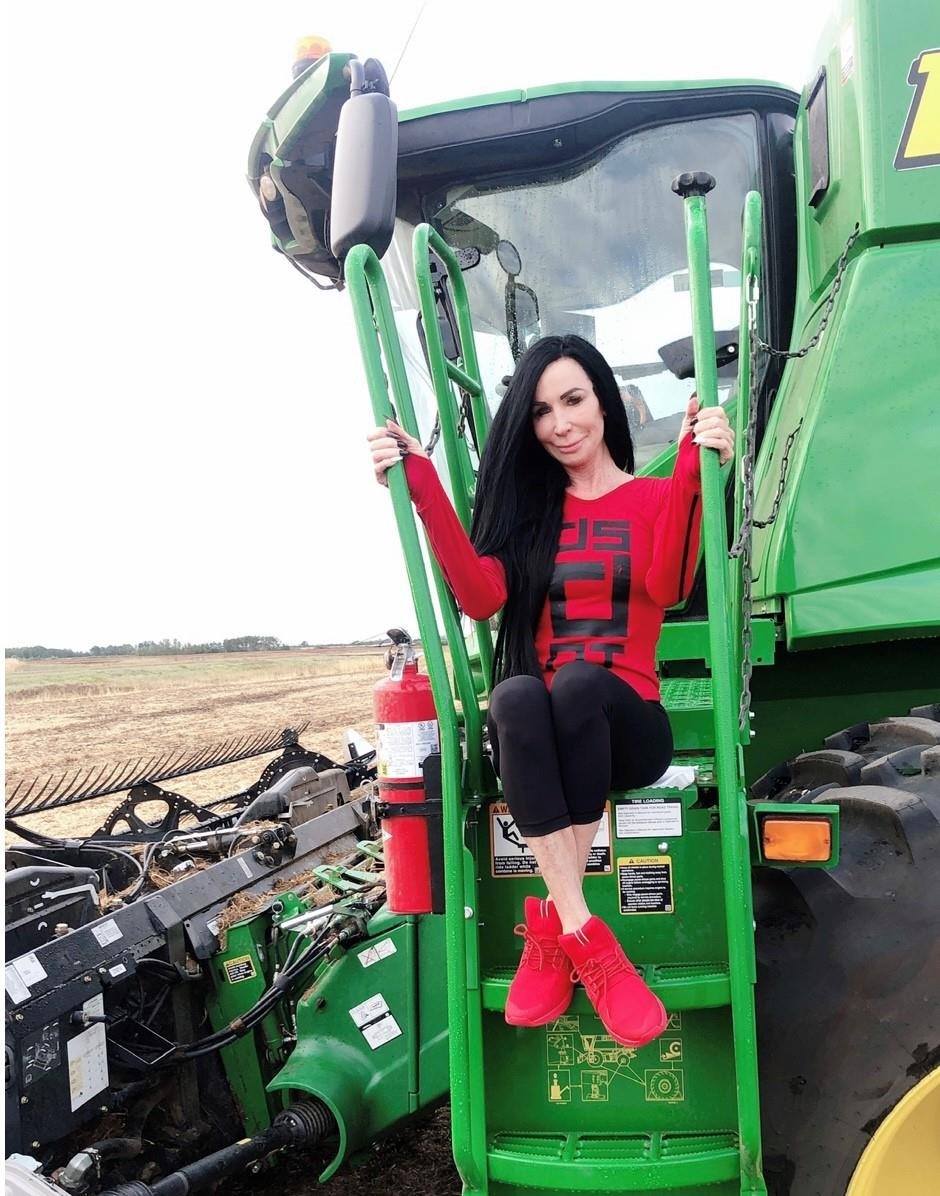 Brenda Cheveldayoff
Cheldayoff's roots are still firm in rural Saskatchewan as her heritage property, the Doukhobor Dugout House, is a national historic site.
Cheveldayoff's great-grandfather, Iakov Fedor Popoff (Jim Fred) lived in the house as a child with 40 others, and it became the Popoff family homestead in 1925.
"When my dad (Sam Popoff) passed away, I purchased it from my mother," Cheveldayoff said. "My dad told me people lived underground there in caves, so I asked the University of Saskatchewan to come to an archaeological dig because I wanted to know if it was true or if he was telling stories."
Representatives from the university conducted a dig in 2004 and proved Cheveldayoff's father correct.
The Province deemed the house a provincial heritage site in 2005. It received the national designation in July 2013.
With her platform as an international fitness champion, Cheveldayoff wants to educate people about agriculture and help dispel any stereotypes people may have about the industry.
"People still have a hard time understanding that women can be involved in agriculture, even though we're literally feeding the world," she said. "I used to drive the combine but now I'm involved with marketing. Yield is the biggest thing I concern myself with because that's how we run a business and feed our family.
"People think farmers must be rich because we drive all this big equipment, but they have no idea of the stressors that come with farming. We don't have a 9-5 job with a paycheque that comes in every two weeks."
Cheveldayoff also wants to use her pageant platform to advocate for women's health.
Her fitness and pageant journey dates to the 90s when she walked the stage for the first time when the CFL's Saskatchewan Roughriders hosted an event.
But a diagnosis in 2012 made Cheveldayoff think hard about her health and her future.
"On Sept. 17 I was notified to get my affairs in order because I had Stage 3 ovarian cancer," she said. "It was very intense. I saw a lawyer and visited with a funeral home that day. I even bought a Mustang and put Lamborghini doors on it because I thought it was last car I was ever going to drive."
The Canadian Cancer Society estimates over 3,000 women will be diagnosed with ovarian cancer in 2022.
Women diagnosed with Stage 3 ovarian cancer have survival rates ranging from 39 per cent to 96 per cent depending on the type of cancer.
Cheveldayoff saw joining a gym as an avenue to better health.
"I walked into the gym not knowing what to do, but I knew I had to start at ground zero," she said. "And using the gym to work towards pageants and fitness competitions gave me the opportunity to speak candidly about my journey and show people you don't have to accept your diagnosis. You can change your life by changing your health."
Cheveldayoff wants women, specifically mature women, to know they can achieve any health goal they want.
"Women my age might look at me think it's unattainable, but I want to rally women to get involved with health and fitness and tell them it is," she said. "The younger ladies I compete with tell me they wish their moms would do what I'm doing."
Though Cheveldayoff beat ovarian cancer, there's one battle she hasn't overcome yet.
The Mustang she purchased is still in her garage and she hasn't driven it.
"Every time I walk by it, the car reminds me of a negative time in my life," she said. "My doctor tells me I need to drive it because I fought ovarian cancer and I won.
link