For most people the very thought of doing a plank raises the blood pressure. But a study suggests it is actually the most effective way to reduce it.
Researchers at Canterbury Christ Church and Leicester universities compared the efficacy of different forms of exercise on reducing blood pressure and found that "isometric exercises" – which involve engaging muscles without movement such as wall sits and planks – were almost twice as effective compared with the government recommended exercise guidelines.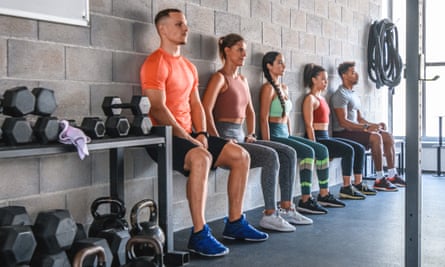 The NHS website recommends that adults should do at least 150 minutes of moderate-intensity aerobic activity, such as cycling or fast walking, every week, alongside dietary and other lifestyle changes to reduce blood pressure.
Reducing systolic blood pressure is associated with decreased incidence of major cardiovascular disease events such as stroke, heart failure, and all-cause mortality.
But this advice does not mention newer forms of exercise, such as high-intensity interval training (Hiit) and isometric exercise.
The study examined 270 randomised controlled clinical trials, involving 15,827 participants, on the effects of particular forms of exercise on resting blood pressure. They were classified as aerobic; dynamic resistance training; a combination of these; Hiit; and isometric exercises. The authors analysed the effects of exercise on both systolic blood pressure, which measures arterial pressure when the heart beats, and diastolic blood pressure, which measures arterial pressure between beats.
The study, published online in the British Journal of Sports Medicine, found significant reductions in resting systolic and diastolic blood pressure after all the categories of exercise. Although other forms of exercise such as aerobic exercise, squats, weights and high-intensity interval training also reduced blood pressure, isometric exercises were the most effective.
Jamie O'Driscoll, a reader in cardiovascular physiology at Canterbury Christ Church university and senior author of the report, said in isometric exercises the muscle remained contracted but did not change in length.
This static contraction could squeeze the vessels that supplied blood to the working muscles – which reduced the flow of blood to the muscle during the exercise and therefore oxygen supply to the muscle.
When the muscle relaxed afterwards, it caused a large flow of blood through the vessels (this was different to other modes of exercise) and was likely to be the trigger driving these greater improvements in blood flow regulation.
The study calls for a review of exercise guidelines for the prevention and treatment of hypertension in light of the findings.
"Performing 4 x 2 minutes of wall sits, with 2-minutes' rest in between, three times per week, is an effective way to reduce your blood pressure," said O'Driscoll. "They should be done alongside other exercise modes, to provide the maximum range of exercise choices rather than limiting them."
Dr Kush Joshi, a sports and exercise medicine consultant and fellow of the Faculty of Sport and Exercise Medicine, welcomed the study's findings, but questioned how easy it would be for patients to put into practice.
"The reality is a significant proportion of the population will not be able to do a plank or wall sits, and furthermore may not enjoy these types of activities," he said.
"Solutions need to be found to make these exercises accessible to all individuals with elevated blood pressure, and the study should provide impetus to policymakers to make exercise the bedrock of treatment of not only high blood pressure but other medical conditions and so to reduce the burden of medication for the population."
Joanne Whitmore, a senior cardiac nurse at the British Heart Foundation, said it was encouraging to see the benefits of other forms of exercise, as well as aerobic exercise.
"We know that those who take on exercise they enjoy tend to carry on for longer, which is key in maintaining lower blood pressure." But she said it was important to make lifestyle changes too, such as losing weight, eating more healthily and reducing alcohol consumption.
link