Here's your weekly update with everything you need to know on the COVID situation in B.C. and around the world.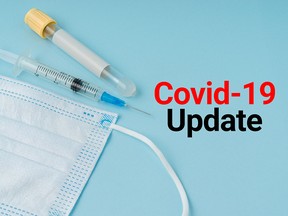 Article content
Here's your update with everything you need to know about the COVID situation in B.C. and around the world for the week of Dec. 1-7. This page will be updated with the latest COVID news and related research developments daily throughout the week, so be sure to check back often.
Article content
You can also get the latest COVID-19 news delivered to your inbox weeknights at 7 p.m. by subscribing to our newsletter here.
Article content
---
Here are the latest weekly B.C. figures given on Nov. 24:
• Hospitalized cases: 328 (same)
• Intensive care: 37 (up 11)
• New cases: 498 over seven days ending Nov. 19 (up 14)
• Total number of confirmed cases: 389,479
• Total deaths over seven days ending Nov. 19: 21 (total 4,642)
Read the full report here | Next update: Dec. 2 
---
LATEST NEWS
B.C. CDC says weekly data delayed to Friday
The B.C. Centre for Disease Control is blaming a "disruption to network infrastructure" for delaying its weekly COVID-19 data report by a day. The health agency now says the weekly numbers will be provided on Friday, Dec. 2.
Article content
Check here Friday for the latest data on COVID-linked deaths from Nov. 20 to 26 and the number of people in hospital and intensive care at the moment.
B.C. civic workers fired for refusing to comply with COVID vaccine mandate have case thrown out
A group of civic employees who were fired by the city of Quesnel for failing to comply with a mandatory COVID-19 vaccination policy have had a lawsuit they filed against the authorities thrown out of court.
In November 2021, the city announced that it was important to act in alignment with the provincial mandate that all B.C. public sector employees must be vaccinated to protect against the spread of the coronavirus.
Workers were warned that if they failed to comply with the policy by Jan. 3 they would be terminated on Jan. 28.
Article content
The 10 employees who declined to get vaccinations were placed on involuntary unpaid leave of absence on Jan. 10 and then terminated on Feb. 7.
They filed a lawsuit in B.C. Supreme Court alleging that the vaccination requirement was an infringement of bodily integrity contrary to the Charter of Rights and Freedoms. They also claimed that the vaccines were neither necessary, safe, nor effective.
Read the full story here.
— Keith Fraser
Health care crisis: A day inside B.C.'s packed children's hospital
Michelle Bastin's three-year-old son Elliott had problems breathing for about a week when she brought him to B.C. Children's Hospital, but the family had to wait nearly eight hours to see a doctor in the jam-packed facility.
Article content
"We came here because his breathing was very laboured, his fever was really bad, and energy-wise he was not doing well at all," recalled Bastin, as her son lay against her on a bed in the ED, or emergency department, an intravenous tube attached to his left arm and heartbeat-monitoring electrodes stuck to his chest.
"You're stressed out and no one wants to come to emergency, but you kind of make that decision thinking, 'I don't have any other options.' So you have to do what you have to do. But waiting, you just get concerned."
When they arrived at B.C. Children's at 2 a.m. on Nov. 24, a trauma patient was understandably being given first priority by the stretched-thin staff. But sitting indefinitely in the waiting room can be torture for worried parents, especially for Bastin, who had twice taken her son to the ED in a different hospital but his symptoms persisted.
Article content
After 6½ hours, Elliott was brought to an examination room, and about an hour later finally saw a doctor. Tests showed his oxygen level was at 86 per cent of what it should be, his heart was beating too fast, and he was likely suffering from serious asthma, his mother said.
While the hospital, like most others in the country, had an obvious shortage of medical staff, Bastin described the people who treated her son as wonderful and patient.
Waiting times at B.C. Children's have been as long as 12 hours, mirroring the situation in many emergency departments across Canada, driven by an early season of viral infections, in particular respiratory syncytial virus, known as RSV, and influenza. Exacerbating this is an increase in COVID cases, as well as a health-care workforce that is short-staffed and burnt-out by the pandemic.
Article content
Read the full story here.
— Lori Culbert
China set to loosen COVID curbs after week of historic protests
China is set to announce an easing of its COVID-19 quarantine protocols in the coming days and a reduction in mass testing, sources told Reuters, a marked shift in policy after anger over the world's toughest curbs fueled widespread protests.
Cases nationwide remain near record highs but the changes come as some cities have been lifting their lockdowns in recent days, and a top official said the ability of the virus to cause disease was weakening.
Health authorities announcing the easing in their areas have not mentioned the protests – the biggest show of civil disobedience in China for years – which ranged from candle-lit vigils in Beijing to street clashes with police in Guangzhou.
Article content
The measures due to be unveiled include a reduction in the use of mass testing and regular nucleic acid tests as well as moves to allow positive cases and close contacts to isolate at home under certain conditions, the sources familiar with the matter said.
That is a far cry from earlier protocols that led to public frustrations as entire communities were locked down, sometimes for weeks, after even just one positive case.
The frustration boiled over last week in demonstrations of public defiance unprecedented in mainland China since President Xi Jinping took power in 2012. The unrest comes as the economy is set to enter a new era of much slower growth than seen in decades.
— Reuters
CRA clawing back $3.2B from suspect COVID-19 aid payments, but that's just the start
Article content
CRA is clawing back $3.2 billion in COVID-19 financial aid benefit overpayments, a staggering number that's just the beginning of the agency's monumental task of recouping billions in excessive or fraudulent payments through hastily designed emergency programs.
In a wide-ranging interview with National Post Tuesday, two top Canada Revenue Agency (CRA) officials, Frank Vermaeten and Marc Lemieux, said the organization has sent out 825,000 debt notes (or "notices of redetermination") to Canadians it suspects received ineligible or excess payments from any number of the COVID-19 programs for individuals as of Nov. 18.
But that number will only grow as CRA investigators look over millions of applications for half a dozen COVID-19 programs until at least 2025.
Article content
They also revealed the agency has already discovered about 25,000 cases of fraudulent payments tied to identity theft, "a scale we haven't seen in the past."
Read the full story here.
— Christopher Nardi, National Post
New census data shows how commuting dropped during pandemic, labour force aging
Statistics Canada says there were 2.8 million fewer commuters in 2021 than in 2016, as the pandemic drove a shift toward remote work.
In a new census release, the federal agency says COVID-19 altered commuting patterns for Canadian workers with fewer people driving, taking transit or walking and bicycling in 2021 compared to five years before.
With fewer cars on the road, commute times also fell. StatCan notes that commute times are now rising again, though commutes are still faster than they were in 2016.
Article content
Given the impact of the pandemic on remote work and commuting, StatCan also compared the 2021 data with updated numbers from this spring. That showed that by May 2022, the number of people driving to work was back to 2016 levels.
The number of people taking public transit was still lower than it was six years ago, making up just 7.7 per cent of all workers.
Read the full story here.
— The Canadian Press
Twitter rolls back its COVID misinformation policy
Twitter Inc has rolled back a policy that was aimed at tackling misinformation related to COVID-19 on the social media platform, lending itself to the risk of a potential surge in false claims even as cases rise in China and some parts of the world.
The move also comes amid concerns of Twitter's ability to fight misinformation after it let go about half of its staff, including those involved in content moderation, under new boss Elon Musk.
Article content
"Effective November 23, 2022, Twitter is no longer enforcing the COVID-19 misleading information policy," according to an update on its blog page. The update was first reported by CNN on Tuesday.
The specific measures that Twitter will drop were not immediately clear, and the company did not immediately respond to a request to share more information.
Read the full story here.
— Reuters
Edmonton emergency doctor Shazma Mithani came off a shift one night last week with a horrifying thought: If this continues, we are going to have kids die in the waiting room.
There were never fewer than 30 or 40 sick, ailing and hurt babies and children waiting to be seen over the course of her 10-hour shift at Edmonton's Stollery Children's Hospital which, like many kids' hospitals across Canada, is being pushed to capacity and beyond.
Article content
Most of the two dozen ER beds were already filled with children who couldn't safely be sent home, because most of them couldn't breathe properly. These children needed to be moved to beds upstairs, but there were no empty beds there to move them to, and so instead they waited, for hours on end, in Mithani's overrun department with a crammed waiting room just beyond it, full of anxious parents and coughing, fidgeting and feverish kids who had no place else to go.
The doctor tried to see children in the waiting room every chance she could. Each time Mithani went out to check, "It was just this kind of low level of chaos." Kids crying and worried parents pleading with the triage nurse, "How much longer is it going to be?"
Babies breathing rapidly from RSV, the virus driving a freakish and alarming number of respiratory infections, and toddlers with bad asthma flare-ups and croup. Multiple kids with abnormal vital signs and critically low oxygen levels who need immediate action and who would normally go straight to resuscitation rooms, except all the "resus" beds were already occupied.
Article content
— The National Post
---
What are B.C.'s current public health measures?
MASKS: Masks are not required in public indoor settings though individual businesses and event organizers can choose to require them.
Masks are also encouraged but not required on board public transit and B.C. Ferries, though they are still required in federally regulated travel spaces such as trains, airports and airplanes, and in health care settings.
GATHERINGS AND EVENTS: There are currently no restrictions on gatherings and events such as personal gatherings, weddings, funerals, worship services, exercise and fitness activities, and swimming pools.
There are also no restrictions or capacity limits on restaurants, pubs, bars and nightclubs; and no restrictions on sport activities.
Article content
CARE HOMES: There are no capacity restrictions on visitors to long-term care and seniors' assisted living facilities, however, visitors must show proof of vaccination before visiting. Exemptions are available for children under the age of 12, those with a medical exemption, and visitors attending for compassionate visits related to end-of-life.
Visitors to seniors' homes are also required to take a rapid antigen test before visiting the facility or be tested on arrival. Exemptions to testing are available for those attending for compassionate visits or end-of-life care.
---
How do I get vaccinated in B.C.?
Everyone who is living in B.C. and eligible for a vaccine can receive one by following these steps:
• Get registered online at gov.bc.ca/getvaccinated to book an appointment in your community.
• Or, if you prefer, you can get registered and then visit a drop-in clinic in your health authority.
• The system will alert you when it is time to go for your second dose.
• The same system will also alert you when it is time for your booster dose.
Article content
---
Where can I get a COVID-19 test?
TESTING CENTRES: B.C.'s COVID-19 test collection centres are currently only testing those with symptoms who are hospitalized, pregnant, considered high risk or live/work with those who are high risk. You can find a testing centre using the B.C. Centre for Disease Control's testing centre map.
If you have mild symptoms, you do not need a test and should stay home until your fever is gone. Those without symptoms do not need a test.
TAKE-HOME RAPID ANTIGEN TESTS: Eligible British Columbians over the age of 18 with a personal health number can visit a pharmacy to receive a free take-home test kit containing five COVID-19 rapid antigen tests.
---
More news, fewer ads: Our in-depth journalism is possible thanks to the support of our subscribers. For just $3.50 per week, you can get unlimited, ad-lite access to The Vancouver Sun, The Province, National Post and 13 other Canadian news sites. Support us by subscribing today: The Vancouver Sun | The Province.
COVID-19: Clinics aim to help long-COVID patients get through their day

B.C. CDC drops self-isolation requirements for COVID-19
link