As a sophomore at CGS, Daniella Pierson started writing a women-focused digital newsletter she called The Newsette. "I was reading a magazine as I had this thought: What if I can bring the delight of magazines—fashion, lifestyle, beauty, all of the things that people check 50 different websites for every single day—and translate that into a curated newsletter? I sent my first one the day after that," she says.
Clicking send on that first edition would set Pierson ('15, Questrom'17) on a life-changing path. 
Today, The Newsette boasts more than half a million subscribers, and the company closed 2021 with $40 million in revenue, mostly from advertisements and brand partnerships. Thanks to the newsletter's success, Pierson landed a spot on the 2020 Forbes "30 Under 30" list. Working on The Newsette also opened the door for Pierson to start her newest venture, Wondermind, a media platform that aims to "destigmatize and democratize mental health," which she cofounded with actor and musician Selena Gomez and Gomez's mother, the producer Mandy Teefey. 
Wondermind, Pierson says, was inspired by an important conversation she had with the two women about mental health for a November 2020 issue of The Newsette. During their conversation, Gomez, who has bipolar disorder and has openly talked about it, and Teefey, who has ADHD, candidly shared their respective mental health journeys. Their frankness inspired Pierson to open up with them about her own experiences with depression, ADHD, and OCD, which she wasn't diagnosed with until her senior year at BU. 
"We were left thinking about how we're three successful women, but if us three who really have nothing to lose by admitting that we have these mental health experiences are scared to talk about it, then how can we expect anyone to feel comfortable talking about their experiences?" Pierson says. Currently, Wondermind consists of a daily newsletter with news, interviews, and tips from professionals. (The July 1 issue included advice from six therapists about how to deal with anger in the wake of the US Supreme Court overturning Roe v. Wade.) The company plans to roll out more features in the next year, including podcasts and tools and products for helping people manage their mental fitness.
Pierson spoke with Collegian about her mental health journey, finding her path at CGS and Questrom, and what we can expect from Wondermind.
Collegian: Your own mental health experiences are part of what inspired you to start Wondermind. Can you tell us about how your struggles impacted you growing up?
Pierson: In my classes, I often had this feeling of, "I don't want to be doing this, and because it's taking me so long to learn these things, I'm feeling stupid." I wondered why my intelligence should be based on things like how I can dissect a frog or do trigonometry.
I was not a good student until I had my first meeting with my college advisor my junior year, and I realized that if I didn't get my act together, I was going to be staying in Jacksonville, [where I grew up]. 
I didn't know it at the time, but I had ADHD. 
My dream was to go to a big city and do big things. I wasn't sure what those things were, but I loved magazines and I had this general idea that I wanted to be some sort of entrepreneur and do something with magazines.
Those last two years of high school, I really buckled down. 
I found a way to study and do my work in a manner that worked for me. I realized I'm very big on adrenaline. I would get to school at 8 am. Classes started at 8:45 am, and I would use those 45 minutes sitting in my car just studying and doing homework. And during the school day, I dedicated every ounce of my free time to studying and doing homework so that when I got home, I didn't have to do any homework or studying. During classes, I was 100 percent focused. I was not talking to anybody. I was in the textbooks just eating up all the information. I realized that that was a really good strategy for me—I thrived on adrenaline and working in sprints.
Then I went to my college advisor and she said, "You have a lot more options now." I just wanted to get far away from Jacksonville. Part of me was thinking, what if I go across the country somewhere and kind of reinvent myself?
I was also definitely pretty depressed in high school. I didn't really have any friends, didn't really have a huge social circle. One day, the song "Boston" [by Augustana] came on my Pandora, and I just absorbed every single word—"I think I'll go to Boston. I think I'll start a new life. I think I'll start over where no one knows my name." And I thought, I need to go to Boston. I acknowledge it's the weirdest way of deciding where to go to college, but I said to my college advisor, "I want to go to Boston." 
What was your experience at CGS like?
CGS is where I started building The Newsette, and it's always going to have a fond place in my heart. My freshman year at CGS was the first time I was told that I was a good writer. That empowered me to lean into that. It gave me the confidence to actually start writing The Newsette. 
I had no experience and, honestly, it was horrible at first, but I was just learning every single day. I remember sitting in the basement common area at CGS, ordering my first Newsette swag for ambassadors. I remember printing out the newsletter in the library and then putting it around the couches and chairs hoping people would subscribe. At that point, I would tell people that I was interning for this cool company so they thought it was something.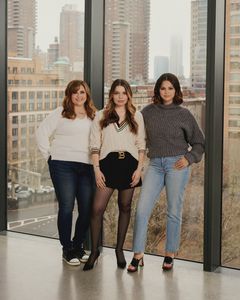 Why was it important for you to conduct that interview with Selena and Mandy that ultimately inspired Wondermind?
Even though I had stopped writing and editing the newsletter after many years, I asked if I could do this interview myself instead of one of our editors. It was very much on purpose. I had never been vocal about mental health ever, but the discussion meant a lot to me. During the interview, Selena and Mandy were so raw and real about their mental health journeys, what they've been through, and their struggles. For some reason, I felt so comfortable and I decided to tell them that I have OCD and depression. They were maybe the fourth and fifth people I've ever met in my entire life that I told that to. The moment I said it, I felt such a big weight lifted off of my chest. It was so freeing, and they were so supportive.
Why do we need a platform like Wondermind?
After that interview, we thought, okay, we have to use our competitive advantages to build a world where it's not only okay to talk about your mental health, but where we can promote this concept that you can work on your mental fitness just like you work on your physical fitness.
We decided to make it a business instead of a nonprofit or charity because we felt that if we were able to raise $50 million for charity, we'd give it to various organizations and that would kind of be it. We wouldn't really get to see the outcome. But if we built a billion-dollar company, and all of a sudden Wall Street, investors, and private equity took notice and realized, oh, mental health is good business, then we could have billions of dollars pour into that space through investments for other apps and services that are trying to democratize and destigmatize mental health. 
It's essentially the same as how the physical fitness world was 20 years ago, where in order to go to a workout class you had to physically walk in and pay for a workout class. Now, there are 50 different apps where you can access free workouts and it's all because of that funding. That's really why we're dedicated to building this into an incredibly valuable business, because that's the way that we are going to be able to provide millions of people access to the tools and the education and the knowledge. 
This will help not only people who have diagnosed mental illnesses, but anybody who feels sad, lonely, scared, anxious—it should be as easy to talk about as if you broke your arm. That's really why we built Wondermind.
What skills did you learn from creating The Newsette that have helped you in building Wondermind?
With The Newsette, I was a solo founder and CEO. With Wondermind, I'm a co-CEO and cofounder. So, it wasn't really what I learned. It was things that I had to unlearn in order to be an effective and collaborative partner. That was exciting because in the early days of The Newsette, I really didn't have anybody to talk to. It's incredibly helpful to be able to talk to other people who are going through the same things and to talk to them about these hard problems. I think the main thing that I learned in building The Newsette that I have brought to Wondermind is knowing how to create something that people want to read every single day.
Right now, Wondermind consists of a free newsletter readers can subscribe to. How do you expect the platform to grow?
We have three parts of the business. We have the content and media arm of the company, which is basically our newsletter and content developed with our world-class experts—psychiatrists, therapists, social workers, etc.—that shows and discusses what this mental fitness lifestyle looks like and also answers the millions of questions people are having each day about mental health. 
Then there's the production arm, which will include bringing to life content along the lines of 13 Reasons Why that makes mental health as a topic more mainstream. As a part of that, we are also launching a podcast network. 
The third part of this ecosystem is physical products. We're working on creating physical, tangible mental fitness tools. Just like you have dumbbells and treadmills for physical fitness, we're working on what that looks like for mental fitness. 
The newsletter part was what we called drop number one, and that launched in April 2022. People can expect more drops coming out throughout the rest of the year.
link